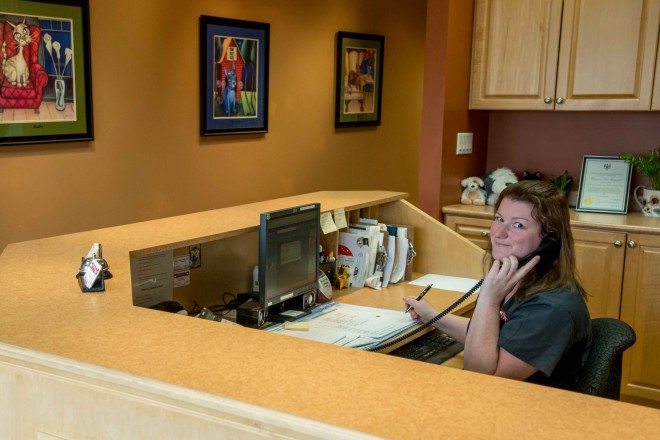 Thank you for your interest in Harwood Pet Hospital!
We're happy to introduce ourselves and share a little bit about our history, our philosophy and our staff. And of course, we would love to hear from you! So if you have any questions, or if you'd rather just talk to us over the phone, give us a call at 905-427-7177.
We at Harwood Pet Hospital love our pets as much as you love yours! We take pride in delivering personalized, compassionate care to our patients and their guardians. Our team strives to provide a comfortable environment for our patients and clients and we want everyone, either two legged or four, to feel welcome as soon as they enter our veterinary clinic. This all starts with a warm hello at the front desk!
Is your pet a member of the family? At Harwood Pet Hospital you and your beloved friend will receive individualized attention and tailored medical care. We pride ourselves on giving you ample time to discuss any issues your pet may have and will always provide you with recommendations to help your pet live a happy, comfortable and healthy life.
Harwood Pet Hospital opened its doors in 2005 and offers a wide range of services for dogs and cats in Ajax and the Durham Region. These services include examinations and vaccinations, parasite prevention, medical, surgical and dental care, nutritional and behaviour counselling, senior care, pain management, and wellness testing. Our two veterinarians have each been practicing for over 20 years and are committed to continually expanding their knowledge through courses and seminars. Our dedicated staff, along with our doctors will work with you to provide the care your friend deserves!
Find out more about our team by visiting our Team page.